What Will the Key West Music Scene Look Like Post Pandemic?
Establishing rules of scope are important when framing a "What If" discussion. Our purpose here is imagining Live music in Key West after the island opens to tourists, but without a proven vaccine. This is what begins June 1st.
The days of jamming hundreds of sweaty bodies into The Green Parrot on a Tuesday to watch the sauce boss pass out gumbo while he plays are long gone. If three coeds are coerced into removing their tops on stage at Irish Kevin's they better keep their masks on. The singers at Willie T's might as well be sitting at one of the table tops. Social Distancing sucks when trying to capture a room.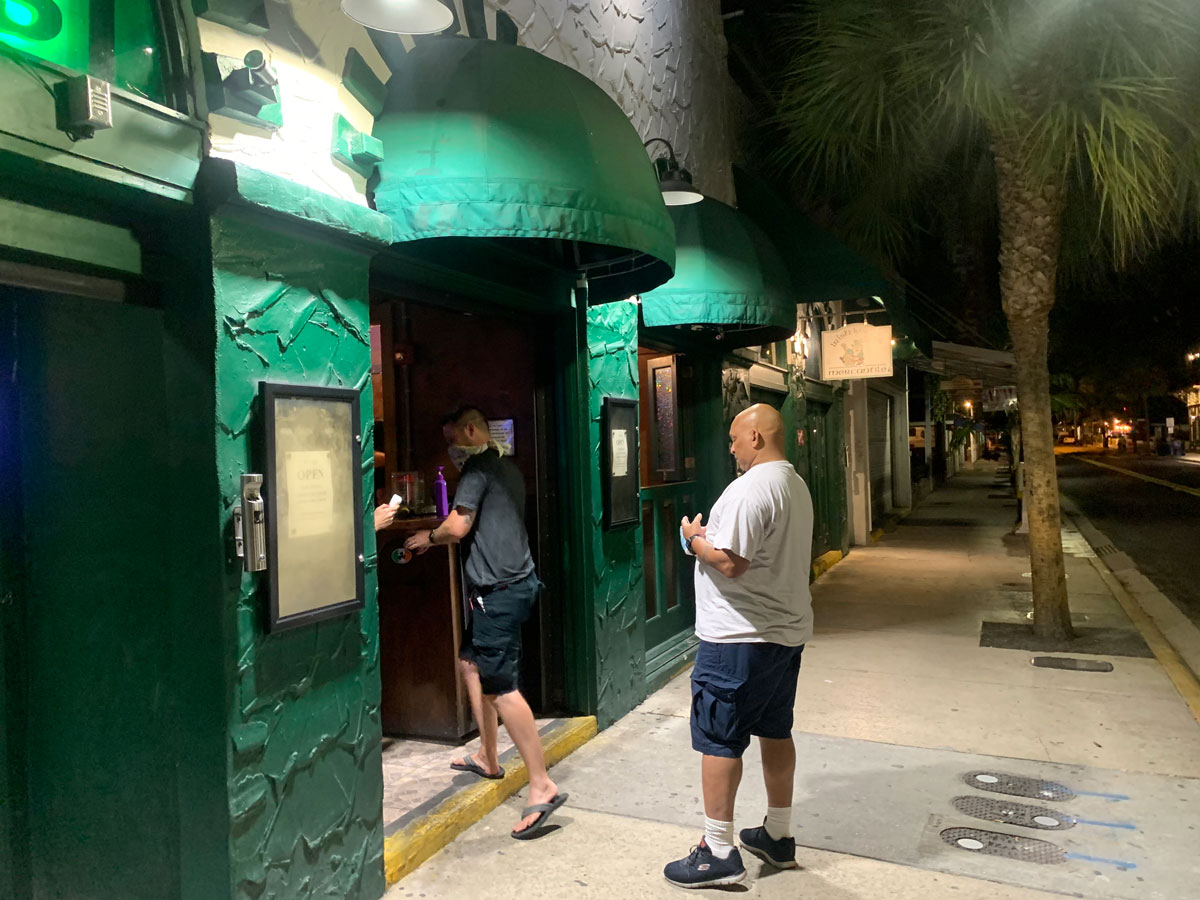 The other night a friend asked me to meet her at Irish Kevin's on Duval Street. Since I had been asked to write this piece earlier that day it seemed like the perfect opportunity to sample live Key West music in the "New Normal." I had a synthetic gator around my neck that I lowered and raised when necessary. The doormen, waitresses, and bartenders all wore masks and gloves at all times. We had to cover our faces when entering the bar due to proximity to the doormen. My friend and her group already had a table and I joined their group of 4, becoming a masked 5th wheel. This crowd was rowdy. At first we fist bumped, but there was close conversation to shout over the singer/songwriter belting out tunes on stage. The tables were spaced much further apart than usual. The social etiquette basically evolved into:
– Wear your mask when entering the bar
– Wear your mask anytime you're walking somewhere (like the bathroom)
– Wear your mask in the bathroom
– You can take your mask down when having a drink or talking to people at your own table
– Wear your mask when exiting the bar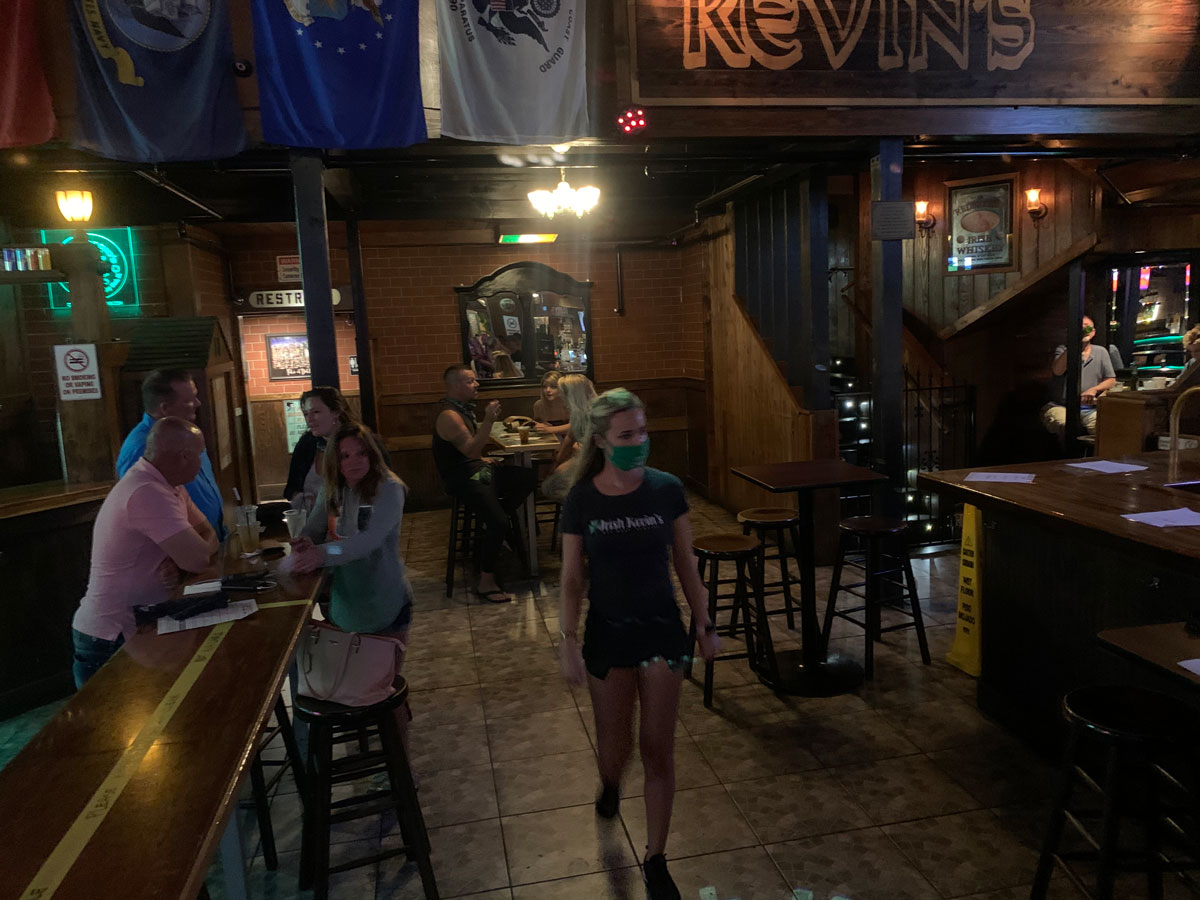 The only way the bar makes money is if people are drinking. People must remove their masks to drink. Key West is a drinking town. Tourists drink a lot. Tourists spend a lot of money. Money pays taxes, wages, and rent. Without drinking Key West has a lot less money. You do the math.
Irish Kevin's was actually set up pretty well for this experience. Sloppy Joe's could also do well in the social distancing music scene. Willie T's could be adjusted as could Hog's Breath, Captain Tony's and the rest. However, intentionally allowing less people into places where they need more people to make money doesn't support The Key West real estate scheme of charging $35,000 a month rent for Duval Street watering holes. Losing Fast Buck Freddie's to CVS, The Strand to Walgreens, and finally The Lazy Gecko (briefly IC Doubles) to Crocs was the beginning of the end of the "Old Normal".
I believe carefree translates well in Key West. I've seen responsible people leave their day jobs for a week or two and pretty much throw caution to the wind on vacation down here. Long term locals find a way to balance work, rent, love life, and then partying to some degree. The temporary nature of an island economy build on transient visitors both inhibits change and dominoes into a wave of follow the leader once a tipping point is reached. Locals never would have believed that Trip Advisor and Yelp would have become as powerful in Key West as they have, but here we are. I never thought I'd be banking online, but I did deposit an unemployment check on my phone recently. Talk is cheap until it's all you have. Then it's everything.
So, what should Key West do with its live music scene? For now, staging Facebook live to expand audiences is a start. Remember, Key West is expensive to visit and many of our elder statesmen and women will be forgoing airports, hotels, and especially crowded bars with young people drinking and dancing to live music. Key West has often broken the rules that had partying is only a young man's game. Any Youtube search of Fantasy Fest in the past 20 years distinctly illustrates my point. Key West has always been that figurative Fountain of Youth. For now this much is clear: The future of the music scene is at best uncertain.
In the great recession of 2008 we ended up reinventing taxis and vacation rentals with Air B&B and Uber/Lyft. Places like Key West and New Orleans will either find a way or they won't. Remember, Key West was previously the richest city in Florida when their main industry was waiting for wooden boats to crash into its coral reef and salvage the loot. This island attracts resourcefulness. Will the Ponce De Leon of live music explore our beloved Southernmost City guitar in hand? Perhaps. If not, maybe the island become one big nursery for the inevitable Baby Boom to follow a worldwide lockdown. I'll be here either way.
Now, Wash your hands and wait.