Terry Cassidy
@terrycassidy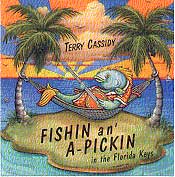 Terry Cassidy Store
Profile
Name

Terry Cassidy

Website
Local Status
Genre
Bio

I'm originally from Cleveland, Ohio. In 1979 I made my way to Key West for a two week vacation and never left. Thirty years have passed and I can honestly say fishing and a pickin' has been my life. I have enjoyed the incredible music scene from Key West to Marco Island, the fishing, and the diving from 10,000 islands, to just off the coast of Cuba. I've been playing folk music and guitar since I was a kid, then at seventeen I discovered the five string banjo and took a turn toward traditioal and bluegrass music.

After moving to Key West I joined a band called the Key Lime Pie Band. During those six years, I got my fix on old time rock and roll, island music, covers, and originals. Then in 1986 I started my solo career, and soon after that I was introduced to the bass foot pedals, which allowed me to play guitar or banjo and bass with my feet.

The island lifestyle brought inspiration when it came to writing songs which can be described as "Island Folk Music". Being able to do what I love best along with a beautiful wife and two daughters I can really say I am truly blessed.